BEC Group understands that all business operations must take into account environmental and social responsibilities together with compliance with the principles of good corporate governance to drive business toward achieving sustainability.
The term "sustainability" is defined not only as period of time but also to have strong foundation while firmly moving forward alongside the Thai society. The Stock Exchange of Thailand encourages all listed companies to consider conducting business with sustainability by incorporating environmental, social, and governance aspects (ESG). Hence, Sustainable Development Committee has been set up to oversee and move forward sustainable development policy and practice of BEC Group in efficient and transparent manner. Sustainable Development Committee consists of the management of each division, totaling 11 members, and President of TV Business Unit as committee chairman. In addition, a working group has been selected and appointed by Sustainable Development Committee to represent each relevant division to ensure compliance with corporate social and environmental policy.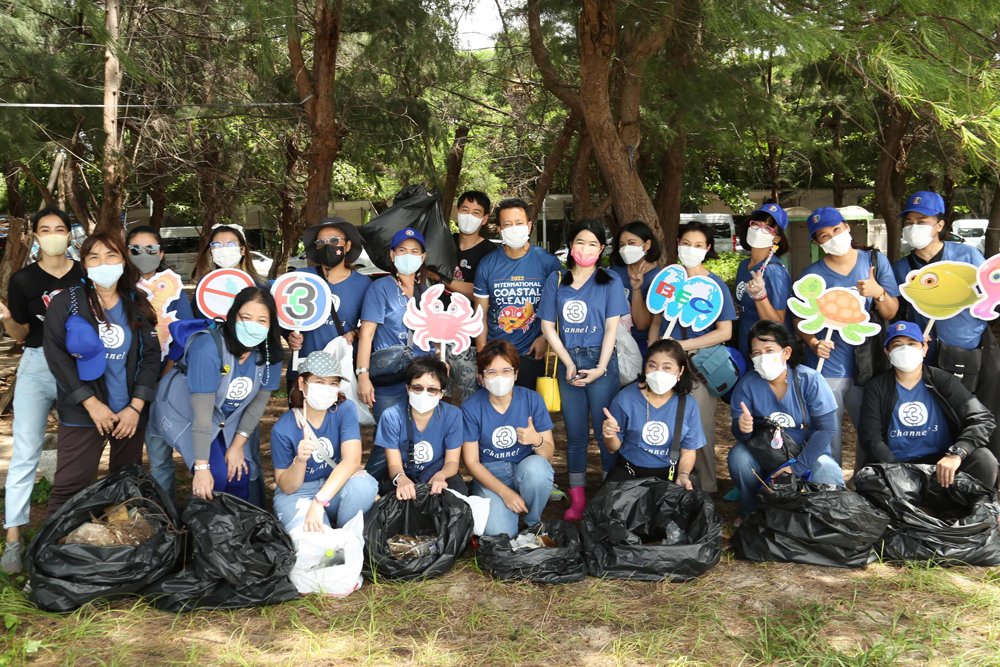 Sustainable Development Committee Structure
Sustainable Development Committee consists of management and unit heads from all functions, totaling 16 members, as follows:
President of TV Business (Committee Chairman)
President of BEC Studio
EVP of Production
EVP of Programming
EVP of Finance & Accounting
EVP of Digital Solutions & New Media
EVP of Resource Management
EVP of Marketing
EVP of Internal Audit & Risk Management
EVP of Corporate Affairs & Communications
EVP of Commercial
SVP of TV Technic
VP of International Business
VP of News
Company Secretary
Manager of Sustainability (Committee Secretary)
Tasks of Sustainable Development Committee
Determining sustainable development policy, strategy, and goal of BEC World Public Company Limited in terms of social and environmental aspects.
Overseeing, monitoring, and assessing corporate sustainable development performance.
Issuing orders and announcements related with sustainable development.
Support the making of 56-1 One Report
Appointing Sustainable Development Working Group consisting of representatives from each relevant units to be responsible for business operations that create positive social and environmental impacts to ensure compliance with the established corporate goals.
BEC World Public Company Limited (BEC Group) has specified Sustainable Development Policy, effective as of December 18th, 2021, being aware of growth earnings and good corporate governances simultaneously which could respond to all stakeholders' expectations of all groups in the business operation. With good management covering all economy, social and environmental aspects would help drive business sustainability and reduction of risk and effect of society, as well as create opportunity to increase capacity for long-term business competition, and also support the Company's partners and alliance to apply the said policy to be adapted for any operation involving BEC Group.
Sustainable Development Policy of BEC Group consists of 4 areas, namely, (1) business operation process, with determination to operate the business as a content producer and mass media, being a good role model for society and respond to customers' requirements. (2) human resource development and maintenance, by creating an opportunity for employees to learn and develop their various capacities for achievement of the Company's goal under sustainability scope. (3) social risk management with awareness of social requirements and strategic response and (4) environmental risk management, with operation participating in the reduction of climate changes by giving knowledge through contents to motivate for building sustainable environment.
BEC Group has realized that the sustainable business operation is not the pursuit of profits or the success of business only, but adhering to good corporate governance, respecting human rights throughout the value chain, participating in maintenance of environment and natural resources, giving fair treatment to labor, responsible to customers as well as participating in development of community and society, in order to simultaneously drive BEC Group to sustainably and truly grow with Thai society.
Sustainable Development Policy
BEC World Public Company Limited and its affiliated companies (hereinafter referred to as the "Company") have established the sustainable development policy by taking into account the growth of its operating results along with corporate governance that can respond to the expectations of all stakeholders involved in the business through exemplary management covering economic, social, and environmental dimensions in order for the Company to drive its business sustainably. The four policy guidelines include:
Business Process
The Company is committed to becoming a role model for society as a content creator and mass media that efficiently responds to customer needs in order to develop its business for sustainable growth.
Conduct business with transparency in accordance with the corporate governance principles (adhering to business ethics, strict anti-corruption policy, and risk management across the value chain).
Be the customer-centric content creator who delivers the best drama series, news, and variety shows that meet the needs of a wide range of audiences on all platforms in order to increase competitiveness, which will bring revenue and market share.
Human Resource Development
The Company is committed to creating opportunities for employees to learn and enhance their potential in various areas so that they can lead the Company towards its goals under the sustainability framework.
Treat employees fairly and equally without discrimination on the basis of race, gender, religion, age, social status, sexual orientation or disability so that all employees can work to the best of their ability.
Regularly develop employees' knowledge and abilities by organizing training sessions and providing opportunity to learn on the job for career advancement.
Create awareness about social and environmental responsibility among employees.
Treat and protect personal information of employees in accordance with the laws.
Social Risk Management
The Company is committed to creating benefits for society by taking into account the needs of society, responding strategically, and collaborating with various partners to develop Thai society for sustainable growth.
Deliver news and timely factual information to keep audience informed about the society.
Deliver news and programs that include content to address social promotion, anti-corruption, and human rights promotion and to inspire job creation for people in order to present ideas and role models for Thai society.
Be dependable for society by supporting and cooperating with various projects whose idea is to help people suffering from disasters or other hardships.
Environmental Risk Management
The Company is committed to actively reducing the impact of climate change by promoting knowledge and understanding through its content to inspire society to care for the environment in a sustainable way.
Operate business by taking into consideration environmental risks.
Offer programs that promote environmental conservation and efficient energy and natural resource consumption.
Support and cooperate with projects aimed at environmental protection.
The Company has shown its commitment to sustainability in economic, social and environmental dimensions through the following policies that are important to sustainable development:
Corporate governance policy
Business ethics
Human rights policy
Social and environmental policy
Anti-corruption policy
Risk management policy
Personal data protection policy
The above policies and guidelines are part of the Company's commitment to achieve sustainability goals. All directors, executives. and employees are responsible for implementing all relevant sustainable development policies and encouraging business partners and allies to apply such policies to their operations related to the Company in order to move forward together in a sustainable way.
This shall be effective from 18 December 2021 onwards.
Mr. Somchai Boonnamsiri
The Chairman of the Board of Directors
BEC World Public Company Limited
Social and Environmental Policy
BEC Group has established Social and Environmental Policy to provide a guideline of practice and build understanding among the executives, employees, and relevant parties to ensure the same practice standard throughout the organization. Social and Environmental Policy of BEC Group became effective on 22 December 2020 and comprises of the following details:
Social and environmental protection is the responsibility of all directors, employees, and relevant parties of BEC Group.
Support corporate environmental practices that are in line with relevant environmental standards and regulations to minimize environmental impact.
Present news, information, and content through TV programs across various platforms to promote moral and ethics as well as fostering environmental protection awareness.
Perform work by considering potential social and environmental risks resulting from business operation.
Establish good relationship and become reliable for the Thai society as a whole, including promoting better life quality and basic rights of the Thai people.
Conduct business with accountability toward labor within the scope of Thai law.
Promote volunteer spirit among employees and encourage them to take part in community development.